Rock On! Moondog – Wednesday, 1 july 2020
Psychedelic, heavy, prog and more innovating sounds spanning the late 60s and the early 70s – Wednesday June 17th. Dan's pick of the week: Moondog (Moondog), Moving Gelatine Plates (Moving Gelatine Plates), Samla Mammas Manna (Samla Mammas Manna), Henry Cow (Leg End) & Captain Beefheart & His Magic Band (Trout Mask Replica).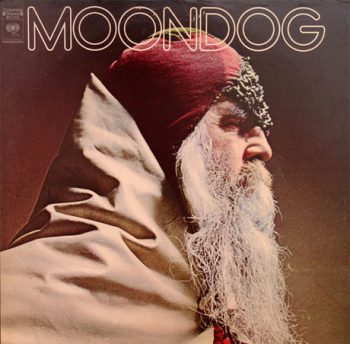 Sputnikmusic review "For 30 years, many simply considered Louis Thomas Hardin, Jr. to be one of the more eccentric vagrants that line Manhattan's walkways. Few New Yorkers knew that when they flipped their spare change to the spear-toting, horn-capped, wispy-bearded "Viking of Sixth Avenue" they were giving to a man who had transcended insurmountable conditions, acquired blindness and homelessness, to become one of the 20th century's most gifted and under-recognized musicians.
By 1969, the Kansas-born composer, who wandered into New York City and adopted the moniker "Moondog" in the late 1940s, had almost a half-dozen recordings to his name. That same year, after a 12-year recording hiatus, he reentered the studio at the invitation of producer James William Guercio to commit a new album to tape for Columbia Records. The result, simply titled Moondog, would feature compositions Moondog had been constructing for more than a decade, including two canons, two "minisyms" (short symphonic-styled pieces for miniature orchestras), three symphonic works, a chaconne memorializing the legendary saxophonist Charlie Parker ("Bird's Lament"), and ballet music written with modern dance pioneer Martha Graham in mind ("Witch of Endor"). The collection would come to be known as a singular entry in the catalog of Third Stream music and possibly Moondog's finest hour."
Wednesday June 17th, 12:00 noon CET Brussels – 11 a.m. GMT London. Repeated: 16:00 & 20:00 hrs CET Brussels, 3 p.m. & 7 p.m. GMT London
Ends: 12 midnight CET Brussels, 11 p.m. GMT London.