Rock On! Wednesday, 15 july – The Man Who Sold The World (Bowie, Mott The Hoople, The Move)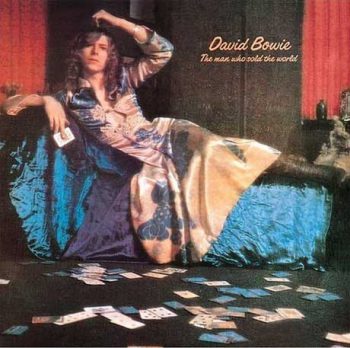 Psychedelic, heavy, prog and more innovating sounds spanning the late 60s and the early 70s – Wednesday July 15th. Dan's pick of the week: David Bowie (The Man Who Sold The World), Robert Wyatt (The End Of An Ear), Mott The Hoople (All The Young Dudes), The Move ('Shazam' and Something Else), John Cale (Paris 1919) & T. Rex (T. Rex).
The Man Who Sold The World is de derde langspeler van David Bowie is. De plaat heeft een ruiger kantje maar is tevens op veel vlakken vernieuwend. Brendan Schroer van Sputnik Music: "The Man Who Sold the World begins with a bit of a doozy: an 8-minute mammoth of a hard rock song, one with several progressive twists and turns and a wealth of churning proto-metal riffs. "The Width of a Circle" is, for all intents and purposes, the first proper introduction to the David Bowie we would all come to love. Not only does this record sound much more comfortable and self-assured when compared to Bowie's first few efforts, but the groundwork for his artistic progression and chameleonic genre-bending was finally established. On a surface level, it's easy to say that bands like Led Zeppelin and Cream were huge influences on the album, which – judging by the fact that this may be one of David Bowie's most hard-edged and bluesy recordings – would seem accurate. But listen closely, and the eccentricities start flying around pretty quickly. Even the aforementioned opener is peppered with some unusual R&B overtones and a weird story involving sexual relations with a supernatural being, offering a closer look into the odd catalogue Bowie would grace us with. Add to that some quirky Moog melodies ("All the Madmen"), touches of psychedelia (the title track), lots of blues (almost every track), and a strong folk influence ("After All," "All the Madmen," the title track, among others), and his diverse art rock blend was coming along very nicely at this point.
(…) But the record is still important as hell regardless. No matter how much his 1969 self-titled represented a great leap forward, this was his true launching pad. On top of that, it started a legendary era for David Bowie that most artists could only dream of reaching artistically."
Wednesday June 17th, 12:00 noon CET Brussels – 11 a.m. GMT London. Repeated: 16:00 & 20:00 hrs CET Brussels, 3 p.m. & 7 p.m. GMT London
Ends: 12 midnight CET Brussels, 11 p.m. GMT London.