Rock On! Wednesday, 2 February – Hawkwind, Guru Guru, Captain Beyond & Blue Öyster Cult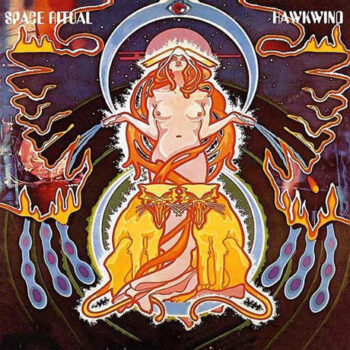 Psychedelic, heavy, prog and more innovating sounds spanning the late 60s and the early 70s – Wednesday September 15th. Dan's pick of the week: Hawkwind (Space Ritual), Guru Guru (Känguru,), Captain Beyond (Captain Beyond) & Blue Öyster Cult (Secret Treaties).
Jake Cole van Spectrum Culture: "But the generally agreed-upon golden years of the group cover the years from 1971 to 1975, during which time there was plenty of changeover but the core of the band remained Brock, woodwind player Nik Turner, and an up-and-coming bassist named Lemmy Kilmister. This era saw the releases of the band's most beloved studio albums and, more importantly, a live document from the end of their 1972 tour by the name of Space Ritual.
By this stage Hawkwind had enjoyed a surprising, if not outrageous, level of success, having just landed their then-current studio album Doremi Fasol Latido in the UK top 20. Even so, the band put on a live show far larger than its commercial showing should have allowed, staging a kind of cosmic revue featuring a light show, topless dancers and space-themes poetry readings by Robert Calvert. Naturally, some of this is lost in an audio-only format. Nonetheless, divorced of the group's multimedia ambition, Space Ritual places the focus squarely on the pummeling, at times caveman-simple visceral impact of their music. If space rock is about imagining oneself exploring the void until the boundaries between the cosmos and one's own mind break down, this is the sound of taking that journey in a beat-up muscle car. The instruments rattle and shake like a spaceship threatening to burn up on re-entry. (…)
Space Ritual is a downright nasty album, and despite filling four sides of vinyl so fully that a few songs had to be edited down to fit, there's none of the bloated, dinosaur-rock padding that characterizes so many live rock albums from this period. Brock is still keeping the faith with various lineups, and the late Lemmy of course went on to his own legendary success, but the Hawkwind captured on these two nights in late 1972 still sound like the rarest of breeds: a group that broke free of our solar system and settled on a distant world, only to become a bar band."
Wednesday Wednesday February 2nd 2022, 12:00 noon CET Brussels – 11 a.m. GMT London. Repeated: 16:00 & 20:00 hrs CET Brussels, 3 p.m. & 7 p.m. GMT London
Ends: 12 midnight CET Brussels, 11 p.m. GMT London.