Rock On! Wednesday, 2 September – Every Good Boy Deserves Favour (Moody Blues, Affinity, Paul McCartney, Aardvark)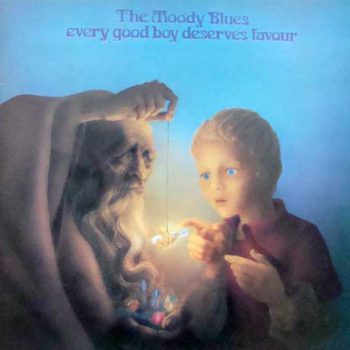 Psychedelic, heavy, prog and more innovating sounds spanning the late 60s and the early 70s – Wednesday, 2 September. Dan's pick of the week: Moody Blues (Every Good Boy Deserves Favour), Affinity (Affinity), Paul McCartney (Ram), Aardvark (Aardvark) & Majority One (Rainbow Rockin Chair).
Moody Blues is een Britse band die in de jaren zestig enkele grote hits had met nummers als Go Now!, Nights in White Satin (meermaals), Tuesday Afternoon en Ride My See-Saw. Ook later scoorden ze nog enkele hits.
Markwin Meeuws van Prog Wereld: "Anno 1971 was The Moody Blues inmiddels zo groot, dat ze het zich konden veroorloven een plaat uit te brengen welke niet vooraf werd gegaan door een single. Maar in plaats verwaand en verwend te klinken, maakt "Every Good Boy Deserves Favour" duidelijk dat The Moody Blues dan eindelijk volwassen is geworden. Na het kwakkelende "A Question Of Balance" is deze opvolger gemaakt in dezelfde stijl, maar dan aanmerkelijk beter. En er zijn ook enkele verschillen.
De toon van de hele plaat wordt bepaald door het haast instrumentale Procession, een groepscompositie, maar meer een geslaagd experiment rondom de introductie van het elektronische drumkit van Graeme Edge, een primeur. Het verrassend spannend opgebouwde nummer, dat telkens wordt onderbroken door uitroepen als "Desolation!!" "Creation!!", is ook opmerkelijk te noemen door de komst van de Mini-Moog, die op deze plaat wordt geïntroduceerd. We hebben het over een draagbare synthesizer bij The Moody Blues! Toch is de plaat, net als het meeste van The Moody Blues, voornamelijk gitaar-gericht, vooral akoestisch. Vandaar de titel, een rijmpje op het gitaarschema EGBDF.
Na deze verbluffende en voor Moody Blues-begrippen behoorlijk experimentele groepscompositie, volgen acht klassiek opgebouwde popsongs overeenkomstig de bekende Moodies-ingredienten: composities die beïnvloed zijn door zowel klassiek als folk, waarin het schrijverstalent van de vijf (jawel!) heren naar voren komt. Acht topcomposities van een band op niveau, zonder tastbare ontwikkeling (behalve in het instrumentarium). Op en top Moody Blues is "Every Good Boy Deserves Favour", een plaat zonder hoogtepunten, maar ook eentje zonder een zwak moment."
Wednesday, September 2nd , 12:00 noon CET Brussels – 11 a.m. GMT London. Repeated: 16:00 & 20:00 hrs CET Brussels, 3 p.m. & 7 p.m. GMT London
Ends: 12 midnight CET Brussels, 11 p.m. GMT London.