Rock On! Wednesday, 21 July – Red Queen to Gryphon Three (Gryphon, A. Phillips, Curved Air, Eloy, Triumvirat & Nektar)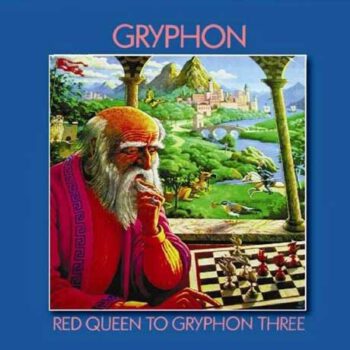 Psychedelic, heavy, prog and more innovating sounds spanning the late 60s and the early 70s – Wednesday December 23rd. Dan's pick of the week: Gryphon (Red Queen to Gryphon Three), Anthony Phillips (The Geese & the Ghost), Curved Air (Phantasmagoria), Eloy (Ocean), Triumvirat (Illusions on a Double Dimple) & Nektar (Remember the Future).
Red Queen to Gryphon Three is het derde studioalbum van de Britse progressieve rockband Gryphon. Het is een conceptalbum dat losjes gebaseerd is op een schaakspel. De band speelt afwisselend barok, renaissance, Engelse folk en progressieve rock…
Prog Archives review: "There is no way this is anything less than blissful perfection, an amazing masterpiece of not only progressive rock but of all music of all time. I don't make such grandiose statements lightly. This album is just THAT incredible. The band brings in a wide array of acoustic instruments, from recorders to krumhorns to bassoons to bass guitars, each one serving an incredible and worthwhile purpose, doing much more than meaninglessly spicing up the album's inside cover. No, each instrument's timbre and strength is duly noted and beautifully expressed throughout the record. The result is just incredible.
Again, the wide array of instruments are more than just flashy. Gryphon can compose some awesome music. Each of the four songs is incredible, going through meaningful progressions, time signiture changes, instrument changes, all the while maintaining instrumental themes which build up to amazing climaxes. By the 3rd or 4th listen, you begin to crave the ending of Opening Moves or that middle section from Lament. They are just too good. (…)
This album receives my absolute highest recommendation, a must for any prog fan, even if you don't feel like it will be your "type" of music. I wouldn't change a thing on this album, it is simply incredible, perfect, bliss. The easiest 5 stars I'll ever give."
Wednesday Wednesday July 21st 2021, 12:00 noon CET Brussels – 11 a.m. GMT London. Repeated: 16:00 & 20:00 hrs CET Brussels, 3 p.m. & 7 p.m. GMT London
Ends: 12 midnight CET Brussels, 11 p.m. GMT London.