Rock On! Wednesday, 23 June – Over (Peter Hammill, Matching Mole, The Wilde Flowers, Caravan & Van Der Graaf Generator)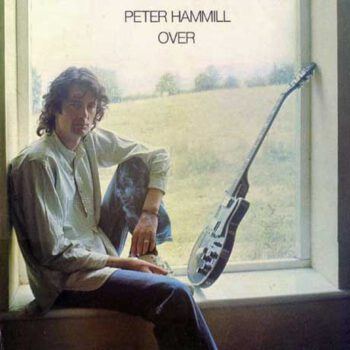 Psychedelic, heavy, prog and more innovating sounds spanning the late 60s and the early 70s – Wednesday December 23rd. Dan's pick of the week: Peter Hammill (Over), Matching Mole (Matching Mole), The Wilde Flowers (Tales of Canterbury: The Wilde Flowers Story), Caravan (If I Could Do It All Over Again, I'd Do It All Over You) & Van Der Graaf Generator (Godbluff).
Peter Hammill is een Engelse singer-songwriter. Hij is een van de oprichters van de progressieve rockband Van der Graaf Generator. Met zo'n achtergrond behoef je geen introductie…
Erik Groeneweg van Prog Wereld: "Over" gaat over het einde van een relatie en alle gevoelens die dat oproept, van woede, wanhoop en depressie tot begrip en voorzichtig herstel. Volgens de overlevering schreef Hammill de plaat om zijn eigen ervaringen te verwerken, het opbreken van een relatie met 'Alice', juist op het moment dat Van Der Graaf Generator in een overgangsfase zat. Hammill speelt en zingt bijna de hele plaat alleen, slechts hier en daar geholpen door nieuwe en oude Generator muzikanten: drummer Evans, nieuwkomer Smith en oudgediende Potter. (…)
"Over" is dus een conceptalbum pur sang, maar gek genoeg wordt die link nooit gelegd. Muzikaal is het, door de kale arrangementen, absoluut een eenheid en thematisch zijn alle stukken aan elkaar verbonden. Ze vertellen de ontwikkeling van een man die zijn relatie op de klippen ziet lopen, bijna gek wordt van razernij en ellende, maar die uiteindelijk toch een soort vrede vindt. Het is ook één van de minst experimentele platen die Hammill ooit maakte. (…)
Ik vind het misschien wel zijn beste album. Het is pijnlijk eerlijk, maar ook troostrijk en fantastisch gespeeld. Als je het album in de discografie ziet, zo vlak na de proto-punk van "Nadir's Big Chance" en voor de new-wave van "The Future Now", is het bijna ongelooflijk dat dit dezelfde muzikant is. Het album is ook voor de luisteraar een emotionele reis, van de bittere ellende van Betrayed (I don't believe in anything, anywhere in the world") tot de catharsis van Lost And Found (I'm free at last, I'm in love at last, lost and found), je maakt het allemaal mee. Emo-rock, zijn tijd ruim twintig jaar vooruit. Put on your red dress, baby!"
Wednesday Wednesday June 23rd 2021, 12:00 noon CET Brussels – 11 a.m. GMT London. Repeated: 16:00 & 20:00 hrs CET Brussels, 3 p.m. & 7 p.m. GMT London
Ends: 12 midnight CET Brussels, 11 p.m. GMT London.