Rock On! Wednesday, 25 May – Nursery Cryme (Genesis, Beggars Opera, Gentle Giant, Steve Hackett, Renaissance)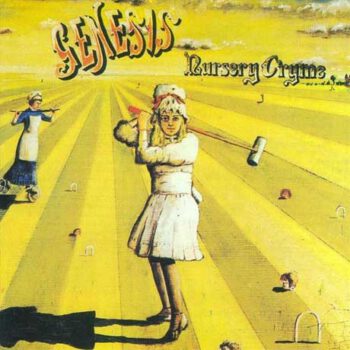 Psychedelic, heavy, prog and more innovating sounds spanning the late 60s and the early 70s – Wednesday December 23rd. Dan's pick of the week: Genesis (Nursery Crime), Triana (El Patio), Beggars Opera (Waters of Change), Gentle Giant (In a Glass House), Steve Hackett (Voyage of the Acolyte) & Renaissance (Novella).
Nursery Cryme is het derde studioalbum van de Engelse band Genesis en wordt beschouwd als een van de meest legendarische platen van de progressieve rock.
Frans Schmidt van Prog Wereld: "Nursery Cryme bestaat uit zeven stukken, variërend van nog geen twee tot ruim tien minuten, die tezamen nog geen veertig minuten klokken. Ofschoon deze duidelijk op hun pastorale voorloper voortborduren, laat dit album onmiskenbaar een agressiever en feller geluid horen. Eigenlijk laveert de muziek haast voortdurend heen en weer tussen een geraffineerde, bijna Victoriaanse beminnelijkheid en een indrukwekkende, imperialistische gewelddadigheid, waarbij hier en daar ook de charmante folkinslag van Trespass zich duidelijk laat groeten. Ondanks dat de sprong voorwaarts tussen dit album en zijn voorganger aanmerkelijk minder monumentaal is dan die tussen Trespass en het aan alle kanten rammelende debuut, is het juist vanwege deze (grotere) differentiatie dat Nursery Cryme met speels gemak Trespass weet te overklassen. (…)
Voor mij persoonlijk behoort Nursery Cryme dan ook samen met Foxtrot en het reeds genoemde Selling England By The Pound zonder enige twijfel tot het allerbeste wat Genesis met Peter Gabriel produceert. Het is dan ook een onvoorwaardelijke aanrader voor eenieder die progressieve, ietwat theatrale rock een warm hart toedraagt.
Wednesday Wednesday May 25th 2021, 12:00 noon CET Brussels – 11 a.m. GMT London. Repeated: 16:00 & 20:00 hrs CET Brussels, 3 p.m. & 7 p.m. GMT London
Ends: 12 midnight CET Brussels, 11 p.m. GMT London.