Rock On! Wednesday, 27 Ocotber – Mcdonald and Giles, Peter Sinfield, Gracious, Yezda Urfa & Maxophone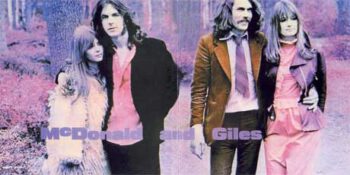 Psychedelic, heavy, prog and more innovating sounds spanning the late 60s and the early 70s – Wednesday September 15th. Dan's pick of the week: Mcdonald and Giles (Mcdonald and Giles), Peter Sinfield (Stillusion), Gracious (Gracious!), Yezda Urfa (Boris) & Maxophone (Maxophone).
Na hun vertrek uit King Crimson na afloop van de eerste Noord-Amerikaanse tournee van de band in 1969, vormden multi-instrumentalist Ian McDonald en drummer extraordinaire Michael Giles korte tijd hun eigen band, met de toepasselijke naam McDonald and Giles.
Connor Mullin van Progarchy: "McDonald and Giles proved that they were no slouches themselves when it came to musical talent. Giles, of course, had already established himself as one of the finest drummers of his day for his frenetic yet polished performance on 21st Century Schizoid Man. McDonald was and still is a man of many talents: his instruments of choice include saxophone, flute, keyboards, guitar, bass, and percussion, among others. Oh, and both gentleman can also sing. As a matter of fact, Giles sang lead vocals for King Crimson's precursor, Giles, Giles, and Fripp. The two play all the instruments on the album except for bass guitar, which is played by Michael's younger brother Peter. Now onto the album itself.
McDonald and Giles' first and only album sounds more like a Giles, Giles, and Fripp album than a King Crimson album. Although jazz influences certainly do permeate the music, McDonald and Giles opted for more optimistic and cheerful songs than the ones found on In the Court of the Crimson King. (…)
If you enjoy the sound of King Crimson, but perhaps prefer more cheerful lyrics, then this is an album worth listening to. And if you are not so inclined to listen to King Crimson, this album is still worth a listen. The drumming of Giles is excellent as usual, and McDonald does a fine job on every instrument he plays. Featuring an array of styles from jazzy drum and sax interludes to soft, sweeping acoustic guitar, this album could appeal to many if they gave it a chance. It is a hidden gem waiting to be rediscovered."
Wednesday Wednesday October 27th 2021, 12:00 noon CET Brussels – 11 a.m. GMT London. Repeated: 16:00 & 20:00 hrs CET Brussels, 3 p.m. & 7 p.m. GMT London
Ends: 12 midnight CET Brussels, 11 p.m. GMT London.