Rock On! Wednesday, 7 July – Bedside Manners Are Extra (Greenslade, U.K., Starcastle, Secret Oyster & Procol Harum)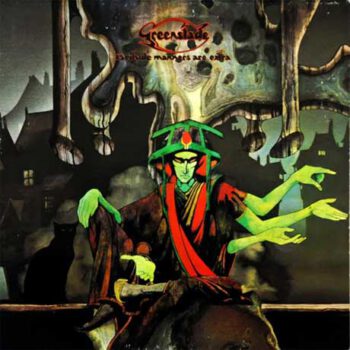 Psychedelic, heavy, prog and more innovating sounds spanning the late 60s and the early 70s – Wednesday December 23rd. Dan's pick of the week: Greenslade (Bedside Manners Are Extra), U.K. (U.K.), Starcastle (Starcastle), Secret Oyster (Sea Son) & Procol Harum (Procol Harum).
Bedside Manners Are Extra is het tweede studio-album van de Engelse progressieve rockband Greenslade, uitgebracht in november 1973 door Warner Bros. Records. Art work is van niemand minder dan Roger Dean…
Kev Rowland van Power of Prog: "I am not sure when I first came across this album, but it wasn't when it was first released in 1973 but some time in the Eighties. I was immediately blown away by the concept of having two keyboard players, and no guitar, and while some likened them to ELP I never really saw (or heard) the link. Yes, there are long instrumentals, but singer (and second keyboard player) Dave Lawson had a very different voice to Greg Lake. (…)
This was the second album by Greenslade, who were formed by Dave Greenslade after the break-up of Colosseum. He brought on board fellow Colosseum founder member bassist Tony Reeves, who had left after contributing to just one song on 'Daughter of Time', along with Lawson (Samurai, and had also been a member of The Alan Bown Set and Web) along with drummer Andrew McCulloch (King Crimson, Fields). Many fans say the debut Greenslade album is the best, while the third 'Spyglass Guest' was the commercially most successful, but this is always the album to which I turn.
It captures a time when anything was possible, and the band certainly felt they weren't restricted on what they were doing. At this point within the British music scene there was the feeling that boundaries were there to be broken and pushed aside, and while Greenslade never really managed to capture the fan base of their contemporaries, to my ears it was never due to lack of songs or ability. Listening to this album on headphones, some 35 years on from its original release, still fills me with a great deal of pleasure and I know that many progheads who have overlooked this in the past will also feel the same way."
Wednesday Wednesday July 7th 2021, 12:00 noon CET Brussels – 11 a.m. GMT London. Repeated: 16:00 & 20:00 hrs CET Brussels, 3 p.m. & 7 p.m. GMT London
Ends: 12 midnight CET Brussels, 11 p.m. GMT London.