Rock On! Wednesday, 9 March – Magma, Henry Cow, Gong, Art Zoyd, Heldon & Étron Fou Leloublan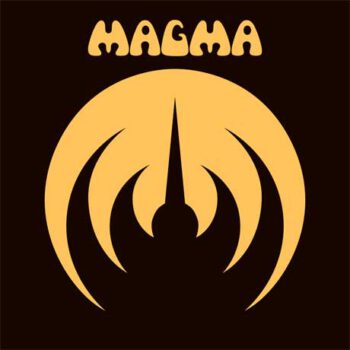 Psychedelic, heavy, prog and more innovating sounds spanning the late 60s and the early 70s – Wednesday March 9th. Dan's pick of the week: Magma (Mëkanïk Dëstruktïw Kommandöh), Henry Cow (In Praise of Learning), Gong (Flying Teapot: Radio Gnome Invisible, Part 1), Art Zoyd (Musique Pour L'odyssée), Heldon (Heldon IV – Agneta Nilsson) & Étron Fou Leloublan (En Public Aux États-Unis D'Amérique).
Magma is een Franse progressieve-rockband die in 1969 opgericht werd door Christian Vander, drummer en zanger van de groep. Hun muziek combineert klassieke muziek, jazz en rock. Typerend zijn repititieve motieven, een Orff-achtige koor en vreemde ritmes. Het geheel is vaak symfonisch, bombastisch en minimalistisch tegelijkertijd.
Sputnik Music review: "Right from the first track, "Hortz Fur Dehn Stekehn West," you know you'll either hate or love this album. Pounding drums, piano, and bass open the song with an ominous, plodding march that is made even more eerie with chanting vocals in the constructed language of Kobaian. Sounds kind of like nazi aliens marching towards your doomed town and demanding your subjugation under threat of complete annihilation. At 9:34, this track is a real tour de force with horns, female choral parts, and even a short bluesy jam.
What you'll notice with M.D.K. is that it's very bombastic, rhythmic (often grooving in 7/8 time), repetitive and linear in its patterns. Usually songs will continue to repeat and build on one theme and then move on to the next. Songs constantly utilize chimes, horns, and flutes along with the standard rock instrumentation. "Ima Suri Dondai" is one of the more pleasant songs vocally, and it also showcases the different instruments very well. (…)
Still, this is quite a feat of unrivaled music that undoubtedly created a small but dedicated following in France. If you're tired of your same old symphonic prog rock that everyone's dad knows, let Magma come into your world and, like a swarm of nazi aliens, destroy your perfect little world of easy-listening music."
Wednesday Wednesday March 9th 2022, 12:00 noon CET Brussels – 11 a.m. GMT London. Repeated: 16:00 & 20:00 hrs CET Brussels, 3 p.m. & 7 p.m. GMT London
Ends: 12 midnight CET Brussels, 11 p.m. GMT London.