Rock On! Wednesday, June 28, 2023 – Steve Hillage, Annexus Quam, Robert Wyatt, Slapp Happy, Hawkwind & Arzachel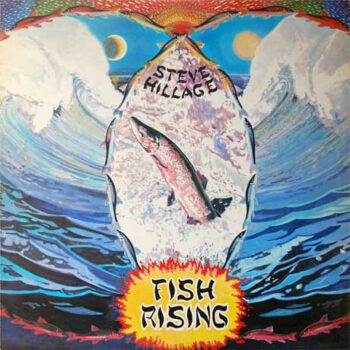 Psychedelic, heavy, prog and more innovating sounds spanning the late 60s and the early 70s – Wednesday January 25th. Dan's pick of the week: Steve Hillage (Fish Rising), Annexus Quam (Osmose), Robert Wyatt (Ruth Is Stranger Than Richard), Slapp Happy (Slapp Happy), Hawkwind (Hall of the Mountain Grill) & Arzachel (Arzachel).
Fish Rising is het debuut soloalbum van de Engelse gitarist Steve Hillage, opgenomen en uitgebracht in 1975. De plaat werd opgenomen vlak voor Hillage's vertrek uit de band Gong en veel van de spelers op dit album komen uit die band: bassist Mike Howlett , drummer Pierre Moerlen , toetsenist Tim Blake en saxofonist Didier Malherbe .
Prog Archives review: "Fish Rising, the 1975 LP from Hillage, is quite simply a lovely record. Full of beautiful guitar textures, spacey vibes, and thoughtful and spiritual lyrics.
Truly a must-have record for the guitarists out there into Prog and Psych, as well as European and Canterbury Prog scene fans. There are wondrous sounds at every turn. Layered guitars awash with modulation effects create beautiful clean melodies and arpeggios, then the next moment a meaty distorted guitar breaks and wails lyrical leads. This aspect of the LP is the highlight for me, but there is so much more as well.
Synth sequences and oscillator sounds float through the background of the "Solar Musick Suite", the first track and a highlight for sure. While there is fabulous layering and depth to the instrumentation, it leaves space between the parts and never feels busy.
There a rich tapestry of guest appearances on here–Lindsay Cooper (Henry Cow, Comus, National Health), and Dave Stewart (Egg, National Health, Khan, Hatfield and the North) as well as several Gong members. The musicianship is outstanding and the sounds they create engrossing. (…)
There's plenty to love about this–what many consider his best solo work?and thus it should come highly recommended to add to your collection. How Hillage is not incredibly famous the world over as a preeminent guitarist on the level of Page, Clapton, Beck, and Hendrix is beyond me. An outstanding work of excellence, with great sleeve art to boot."
Wednesday, June 28, 12:00 noon CET Brussels – 11 a.m. GMT London. Repeated: 16:00 & 20:00 hrs CET Brussels, 3 p.m. & 7 p.m. GMT London
Ends: 12 midnight CET Brussels, 11 p.m. GMT London.