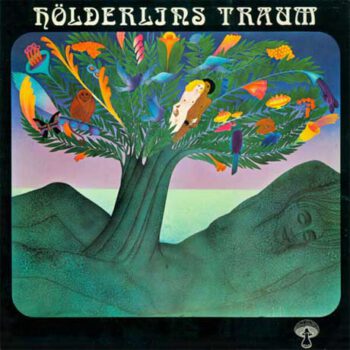 Psychedelic, heavy, prog and more innovating sounds spanning the late 60s and the early 70s –  Wednesday August 12th.  Dan's pick of the week: Hoelderlin (Hölderlins Traum), Peter Bursch und die Bröselmaschine (I Feel Fine), Emtidi (Saat), Grobschnitt (Solar Music Live) & Rufus Zuphall (Weiß Der Teufel).

De eerste helft van de jaren zeventig waren erg dynamisch voor de West-Duitse muziek. Krautrock was al een genre geworden en rond 1973 begonnen verschillende bands al dan niet geinspireerd door Britse voorbeelden, ook hun eerste stappen in de symfonische rock te zetten.

Wouter Brunner van

Prog Wereld

: "Hölderlin, toen nog met een umlaut geschreven, werd in 1970 opgericht door de broers Grumbkow en de uit Wassenaar afkomstige kunstenares Nanny de Ruig. Met een zeskoppige band en daarnaast nog een drietal gastmuzikanten kwam het debuut "Hölderlins Traum" tot stand.

… Read more...